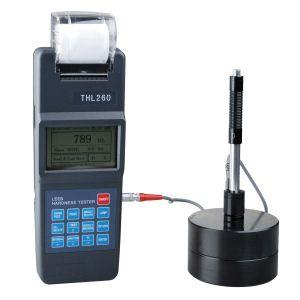 모델명: THL-260
메이커: TMTECK

상세정보:

LEEB HARDNESS TESTER THL260<?xml:namespace prefix = "o" />


Advantages


l Large screen(128×64 dot matrix LCD), showing all functions and parameters.


l Test at any angle, even upside down.


l Wide measuring range. It can measure the hardness of all metallic materials. Direct display of hardness


scales HRB, HRC, HV, HB, HS, HL and three types of strength values immediately.


l Seven impact devices are available for special application. Automatically identify the type of impact devices.


l Large capacity memory can save 250 groups (at most 6500 single time measured value) of datas, each


group include: most 26 single time measured value,average value,measure time and data, the impact direction,number of times,material and hardness scale...etc., can keep over a long period of time with have hereafter browse,edit,print.


l Upper and lower limit can be preset. It will alarm automatically when the result value exceeding the limit.


l <?xml:namespace prefix = "st1" />Battery information indicates the rest capacity of the battery and the charge status.


l User calibration function.


l RS232 port with the PC humanity multi-functions data proceeding software.


l Auto power off to save energy.


l Excellent after-sale service system for high quality products---two years' guarantee and all life maintenance. Easy to buy and comfortable to use.


Main Application


l Die cavity of molds


l Bearings and other parts


l Failure analysis of pressure vessel, steam generator and other equipment


l Heavy work piece


l The installed machinery and permanently assembled parts


l Testing surface of a small hollow space


l Material identification in the warehouse of metallic materials


l Rapid testing in large range and multi-measuring areas for large-scale work piece


Technical Specifications


l Measuring range:HLD(170~960)HLD


l Measuring direction:360°


l Hardness Scale:HL、HB、HRB、HRC、HRA、HV、HS


l Display:dot matrix LCD,128×64 dots


l Data memory: 250 groups max.(relative to impact times 32~1)


l Continuous working period:about 150 hours(With backlight off, no printing)


l Communication interface:RS232